FREE SHIPPING ON BUCKED UP PRODUCTS THIS WEEK ONLY - BUILTATHLETICS.COM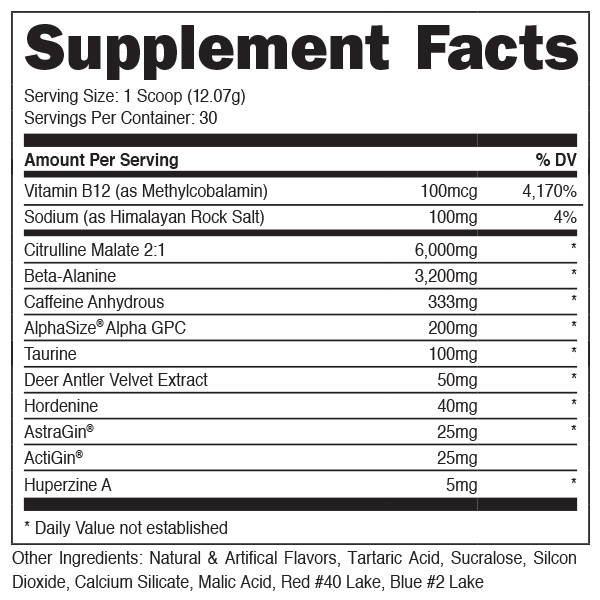 WOKE AF 5 STAR REVIEWS: ⭐⭐⭐⭐⭐
or 4 interest free payments with SEZZLE
100% No-Risk Money Back Guarantee

---
WOKE AF™ is not for beginners, rookies, or people who curl in the squat rack.
WOKE AF is not for beginners, rookies, or people who curl in the squat rack. This stim heavy dose has been formulated for those with only the strongest of tolerances. Three (3) different stimulants combined with clinically proven cognition enhancers, and a potent delivery mechanism will help you stay WOKE through the most intense workouts, longest work shifts, graveyards, study sessions, (or simply crushing your enemies, seeing them driven before you, and hearing the lamentation of their people).*
ZERO SUGAR - KETO / PALEO FRIENDLY - ZERO CALORIE - GMP CERTIFIED
or 4 interest free payments with SEZZLE
100% No-Risk Money Back Guarantee

---
VOTED STRONGEST PRE WORKOUT
Woke AF by Das Labs is a balanced, high stimulant pre-workout, that not only gives you the energy and the pump, but keeps you locked in when you're almost anabolic. Heavily dosed prime ingredients and full transparency make Woke AF a must for experienced athletes.*
WOKE AF is our highest stimulant pre-workout. It's for the saiyan insane, the insatiable, and those who refuse to accept anything less than reaching energy levels over 9,000. It's formulated with clinically studied ingredients (at their clinical doses) to deliver pump, endurance, focus, and performance. But that's just the quality you expect from any BUCKED UP product. What's truly astonishing about WOKE AF is the combination of stimulants.
Key Benefits:
Citrulline - 6g to maximize blood flow (nitric oxide booster)*

Actigin® - Increase VO2 MAX & boost athletic performance*

Deer Antler Velvet - Supports accelerated recovery*

Alphasize® - Clinically shown to sharpen mental focus**

Astragin® - Clinically shown to increase citrulline absorption by up to 66.7%*

Beta-Alanine - Promotes strength, endurance, & muscle growth.*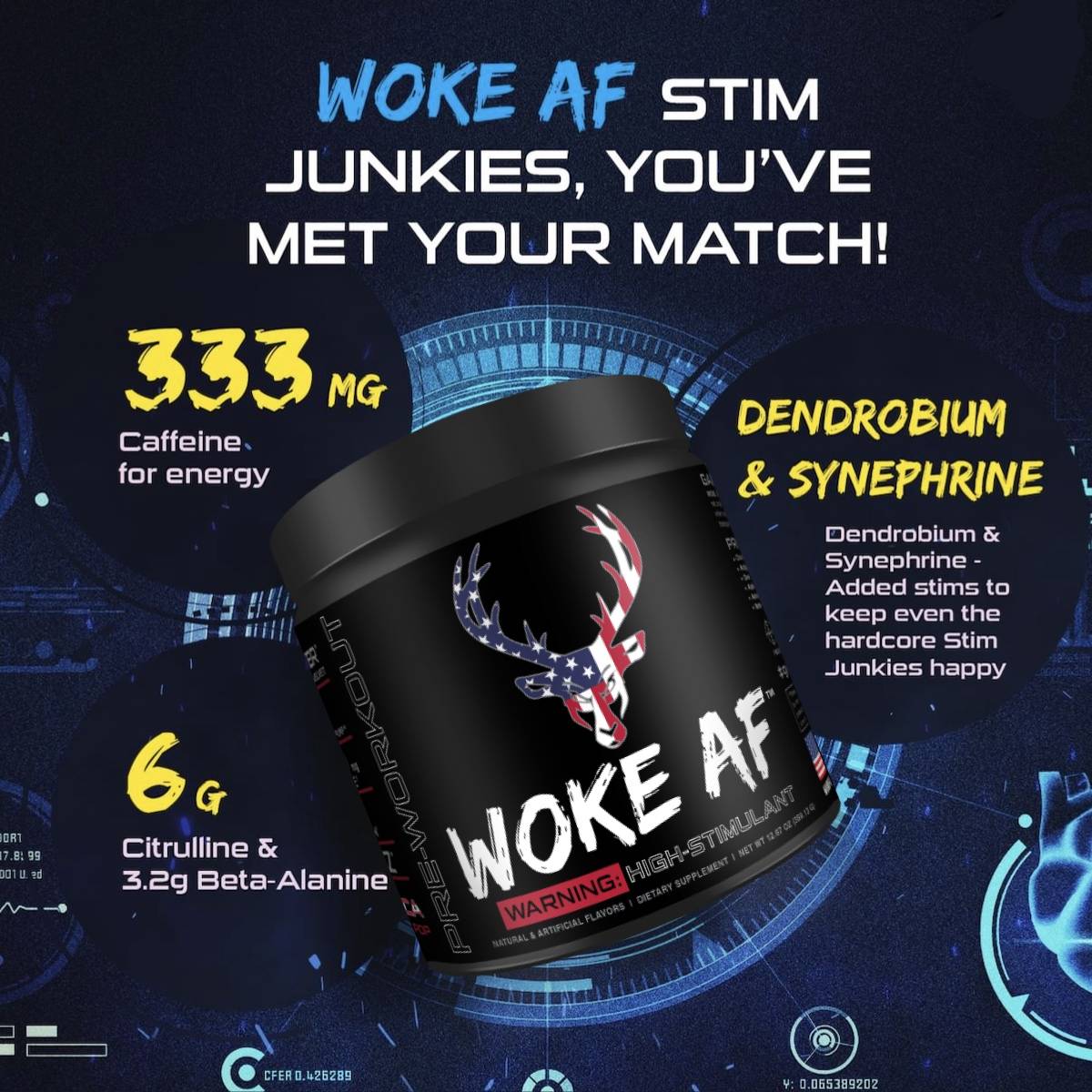 BUCKED UP WOKE AF SUPPLEMENT FACTS
Serving Size: 1 Servings
Servings Per Container: 30
Vitamin B12 (as Methylcobalamin) 100mcg

Sodium 39mg

Citrulline Malate 2:1 6,000mg

Beta Alanine 3,200mg

Caffeine Anhydrous 333mg

Theobromine 300mg

Alpha SIzze Alpha GPC 200mg

Taurine 100mg

Himalayan Rock Salt - with Trace Minerals 100mg

Deer Antler Velvet 50mg

AstraGin (Astragalus, Panax Notoginseng) 25mg

ActiGin (Panax Notoginseng, Rosa Roxburghill) 25mg

Huperzine A (Huperzia Serrata) Extract 50mcg

Other Ingredients: Natural & artificial flavors, citric acid, silicon dioxide, calcium silicate, sucralose, yellow 5 and red 40
BUCKED UP WOKE AF REVIEWS
★ ★ ★ ★ ★
Have been a Bucked Up customer for a while now. Decided to step up to Woke AF. All I can honestly say is? Wow! Wish I would have done this sooner. I honestly can't believe how much more effective I am in the gym and what I am able to lift for a 55 year old! This stuff is the real deal. - Carlos
★ ★ ★ ★ ★
I absolutely love Woke AF!!!!! I have liked every flavor so far but my favorite is the Killa OJ!! - Kira


★ ★ ★ ★ ★
I love the Woke AF! It always powers my workout and helps me with the mental focus the rest of the day - I promise you wont regret your purchase! - Andrew


★ ★ ★ ★
I've been using WOKE AF for a while now and I absolutely love it. First time trying Sour Gummy and it is hands down one of the best tasting pre workouts I have ever had!! - Brett
★ ★ ★ ★ ★ 5.0
100% NO-RISK MONEY BACK GUARANTEE