FREE SHIPPING ON BUCKED UP PRODUCTS THIS WEEK ONLY - BUILTATHLETICS.COM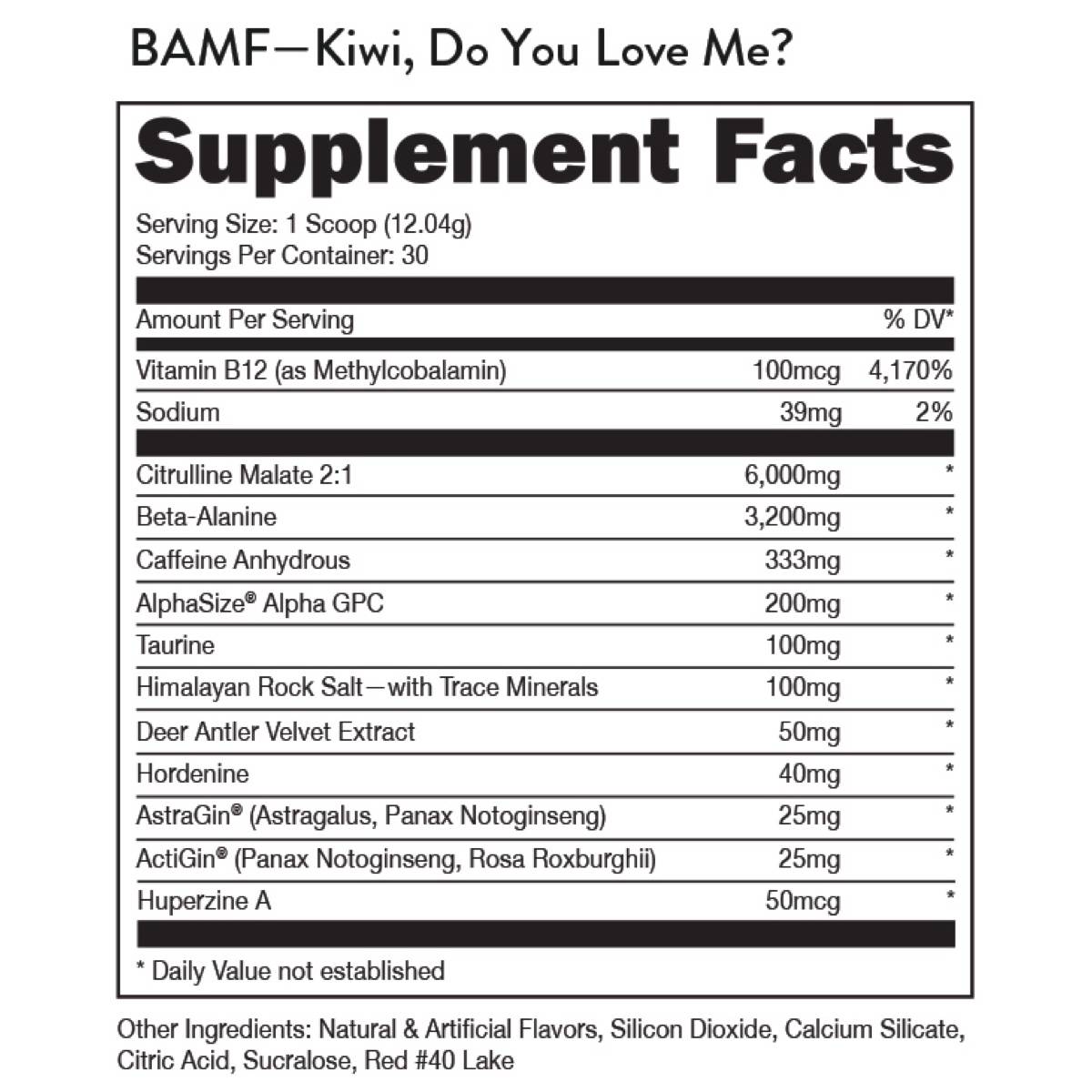 NEW FLAVORS NOW AVAILABLE
or 4 interest free payments with SEZZLE
100% No-Risk Money Back Guarantee

---
The world's first and only true NOOTROPIC PRE-WORKOUT supplement.
BAMF opens your mind to the cosmic greatness of what you can become. Often overlooked as a staple for epic workouts, Focus can be the deciding factor in your training success. As a nootropic pre-workout, BAMF is formulated to deliver everything you've come to expect from us -- energy, endurance, pump, performance -- and then more. Using three ingredients, BAMF is designed to turn your brain function dial up to eleven, delivering mental sharpness and Da Vinci-level focus. Rid yourself of distractions, hit flow state, zone in on your goals, and achieve workout enlightenment.
ZERO SUGAR - KETO / PALEO FRIENDLY - ZERO CALORIE - GMP CERTIFIED - CREATINE FREE
or 4 interest free payments with SEZZLE
100% No-Risk Money Back Guarantee

---
Ever had those days where your brain feels like a computer that's running on dial-up, has seven windows up, music streaming, solitaire in the background, and the fan's broken? You slog into the gym still thinking about assignments, deadlines, and if you'll be forever alone. Trying to close everything else down so you can fire on all cylinders and conquer your workout is futile on your own.
That's where BAMF comes in. Using three nootropics shown to positive impacts on cognitive function and motivation, BAMF is both your brain's geek squad and task manager. Hordenine for prescription level focus, AlphaSize for mental sharpness, and Huperzine-A accelerate memory recall. Teaming up with all the other adept ingredients, BAMF upgrades your brain's CPU, closes every window, and stops every process except for the one that matters: YOUR WORKOUT.
*Hyper Focus
*Mind-Muscle Connection
---
KEY INGREDIENTS
Caffeine: Increased to 333mg for you stim junkies out there
Citrulline: 6g for maximized blood flow (PUMP)
AstraGin: Clinically shown to increase citrulline absorption

Beta-Alanine: 3.2g for all the endurance, stamina, and tingles

Actigin: Increased VO2 max, and athletic performance
AlphaSize GPC: Clinically shown to sharpen mental focus
Hordenine: A plant-based compound that has been shown to have a: nootropic increase, physical performance increase, but a fat burning increase as well. An underground metabolism and mental booster not just touted in bodybuilding communities increased attention span, calorie-burning, mood, and productivity.
Huperzine: A plant-based alkaloid extract that has been shown to prevent the breakdown of acetylcholine, a key component of brain function. Not only does it prevent acetylcholine breakdown, but has been shown to increase levels for up to 6 hours post-consumption. Huperzine A has also been shown to increase memory retention, and even prevent neuron death from toxicity
*The statements made here have not been evaluated by the Food and Drug Administration. This product is not intended to diagnose, treat, cure, or prevent any disease.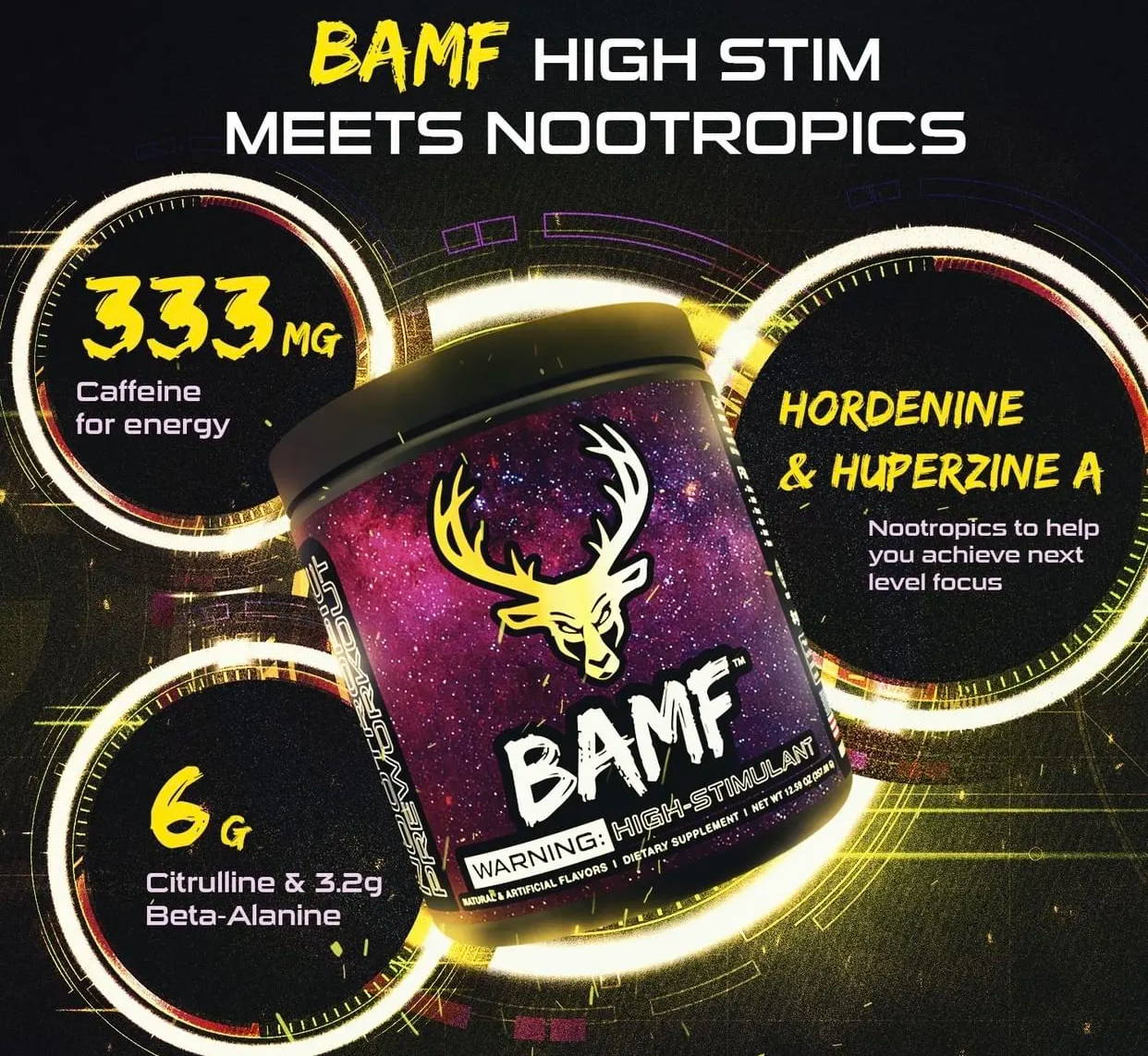 SUPPLEMENT FACTS
Serving Size: 1 Scoop (11.92 g)‡
Servings Per Container: 30
Amount Per Serving %Daily Value
Vitamin B12 100mcg 1,670%

Sodium (Himalayan Rock Salt) 100mg 4%

Citrulline Malate 2:1 6,000mg

Beta-Alanine 3,200mg

Caffeine Anhydrous 333mg

AlphaSize® Alpha GPC 200mg

Taurine 100mg

Deer Antler Velvet Extract 50mg

Hordenine 40mg

AstraGin® 25mg

ActaGin® 25mg

Huperzine A 50mcg
*Daily Value Not Establishedother ingredients: natural and artificial flavors, citric acid, sucralose, malic acid,silicone dioxide, calcium silicate, malic acid, yellow 5 lake
⭐⭐⭐⭐⭐
Just started using this after taking a few months off from pre-workout. I don't mind the flavor, def kicks in when I need it to.. Especially after a long day at work when I'm feeling tired. Normally I need a pretty strong preworkout to help me focus and last the whole workout but this does the job!
- Amber [12/2/20]
⭐⭐⭐⭐⭐
Absolutely my favorite pre-workout!! Amazing energy and focus that tastes amazing and doesn't make you crash. I get about an hour and a half workout easy with it.
- Cameron [10/18/20]
⭐⭐⭐⭐
I love this product definitely not the best for energy, I prefer a little more caffeine, but great focus and makes me feel amazing all day. The taste is probably the best Ive had from and pre workout.
- Dustin [7/20/20]
⭐⭐⭐⭐⭐
This Pre-workout is one of the best I've had in a while. Works perfect for either my early morning workout before work or after I've worked all day and needed to power through a workout. I definitely will be purchasing more
- Christopher P. [8/16/20]
★ ★ ★ ★ ★ 5.0
100% NO-RISK MONEY BACK GUARANTEE