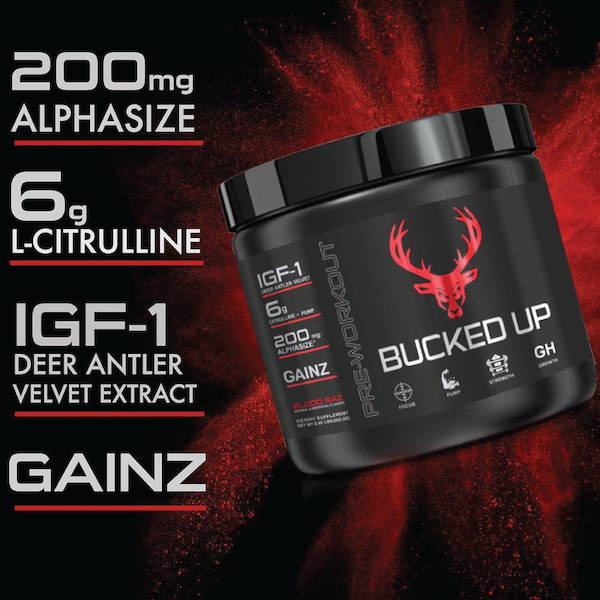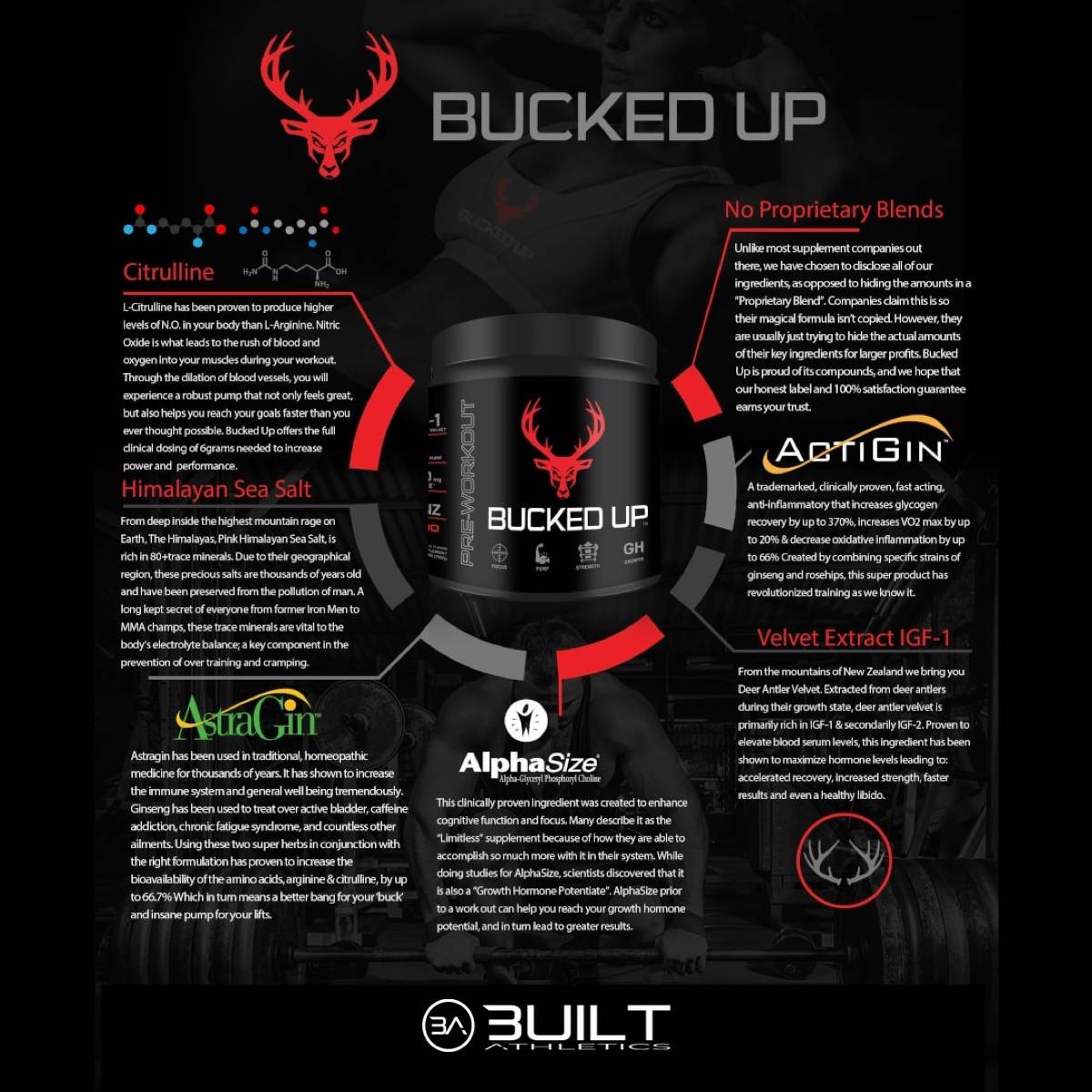 or 4 interest free payments with SEZZLE

---
BUCKED UP® was developed with two purposes in mind. To take your workouts to the next level -- check. And be the best possible pre workout on the market -- also check.
BUCKED UP DOES NOT use proprietary blends. We have nothing to hide. You won't find ineffective doses of any ingredients in BUCKED UP® because we know that you don't want to pay for a supplement that isn't going to work. Effective for serious athletes, bodybuilders, and anyone else looking for pump, focus, energy, and growth, BUCKED UP® is the pre-workout everyone can agree on. Approximately 200mg caffeine per serving.
CREATINE FREE ZERO SUGAR - KETO / PALEO FRIENDLY - ZERO CALORIE - GMP CERTIFIED
or 4 interest free payments with SEZZLE

---
No Matter the Challenge, BUCKED UP® has the optimal formula for maximum performance and results for both women and men. Enhance Performance— running, gym workout, cardio, skating, basketball, football, hockey, baseball, soccer, track and field, hunting, get jacked/ripped, lean out, or whatever comes next.*
LOADED WITH SCIENTIFICALLY BACKED INGREDIENTS
Top-of-the-Line Ingredients, including:
ACTIGIN—

Increase VO2 MAX & Boost Athletic Performance*

BETA-ALANINE—

Promotes Strength, Endurance & Muscle Growth*
ALPHASIZE—

Clinically Shown To Sharpen Mental Focus*
ASTRAGIN—

Increase Citrulline Absorption*
CAFFEINE ANHYDROUS—

200mg Stim/Stimulant
* The statements made here have not been evaluated by the Food and Drug Administration. This product is not intended to diagnose, treat, cure, or prevent any disease.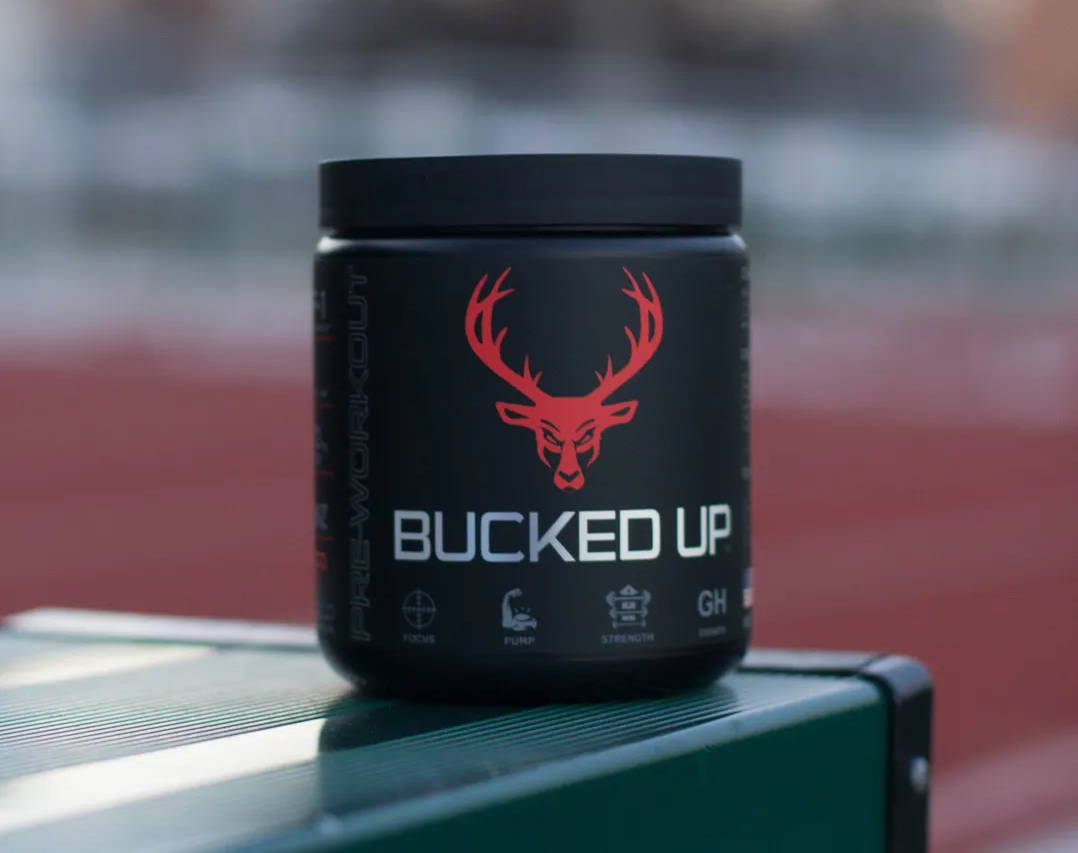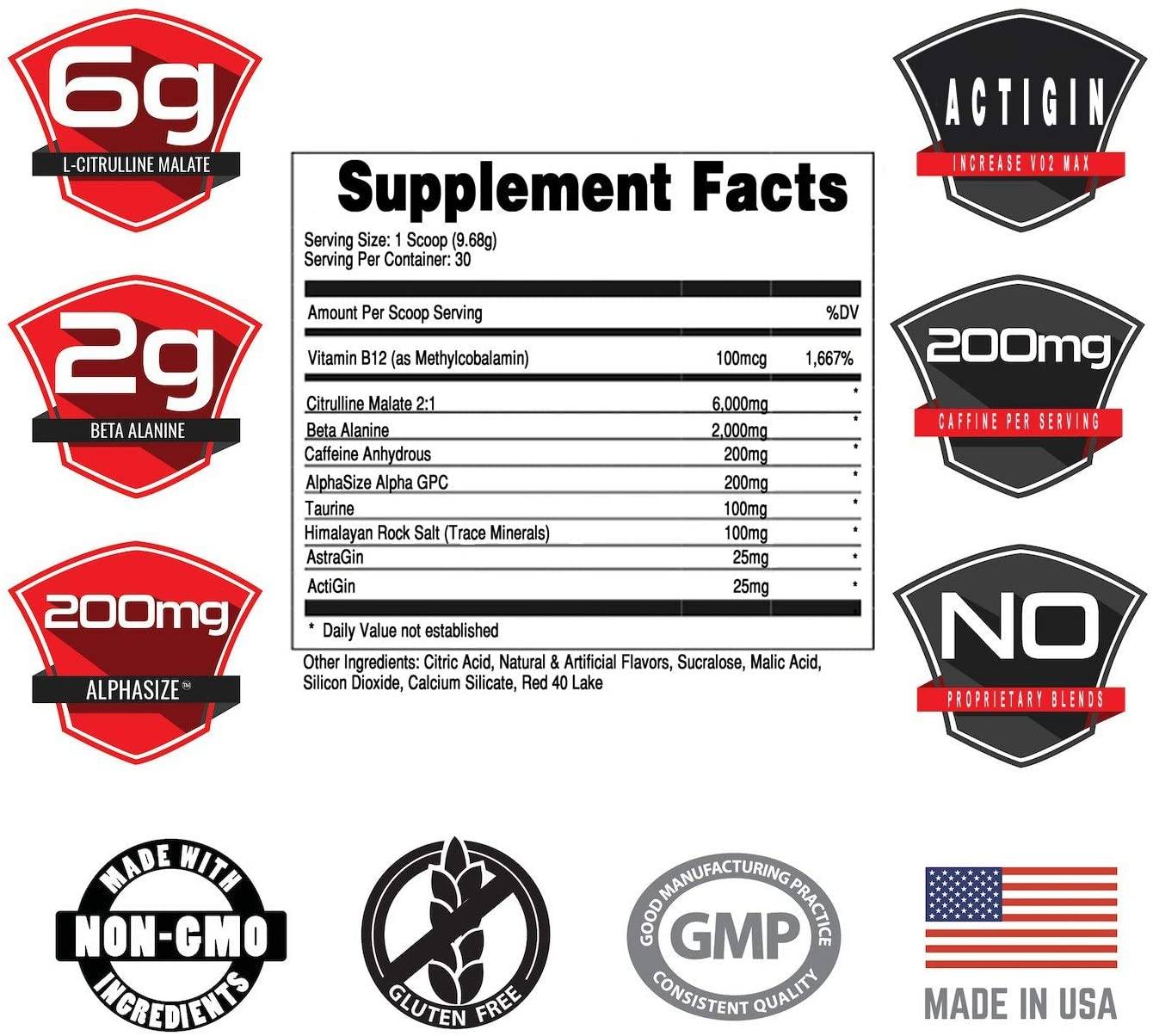 Serving Size 1 Scoop(s)
Servings Per Container 30 - Amount Per Serving % DV

Vitamin B12 (as methylcobalamin) 100 mcg **
Citrulline Malate 2:1 6000 mg **
CarnoSyn ® Beta-Alanine 2000 mg **
Caffeine Anhydrous 200 mg **
AlphaSize® Alpha GPC 200 mg **
Taurine 100 mg **
Himalayan Rock Salt 100 mg **
Deer Antler Velvet Extract 50 mg **
AstraGin® 25 mg **
ActiGin® 25 mg **

** Daily Value (DV) not established.

Other Ingredients
Natural & Artificial Flavors, Malic Acid, Citric Acid, Silicon Dioxide, Calcium Silicate , Sucralose, Blue 1 Lake

---
Bucked Up Pre Workout Reviews
★ ★ ★ ★ ★
Bucked Up is by far my favorite pre workout! Great taste I love that is has no fillers others I feel taste toxic and my favorite is the Beta Alanine I have to have my pump!
- Becky Stark
★ ★ ★ ★ ★
I've been using this pre workout since day one of when I started working out. Every time I've used it, I have not been let down. The efficiency of the pre workout is very noticeable and the flavors are all very nice.
- Jason G.
★ ★ ★ ★ ★
This pre-workout has been my favorite hands down. It doesn't give you the crash after like some preworkouts do. It gives me the ability to push harder for a longer period of time. Absolutely love this product!
- Andrew
★ ★ ★ ★ ★
I've been using Bucked Up for a little under a year now and I am still impressed with it. It was my first ever pre-workout I ever tried, and it really paved the way for me and my fitness journey. Never once have I ever crashed off it, which is my favorite thing about it. Like anything though, after a while you will begin to get immune to the caffeine, so I recommend taking a few days off it before starting to use it again.
- Tyson
Energy - Endurance - Focus - Performance